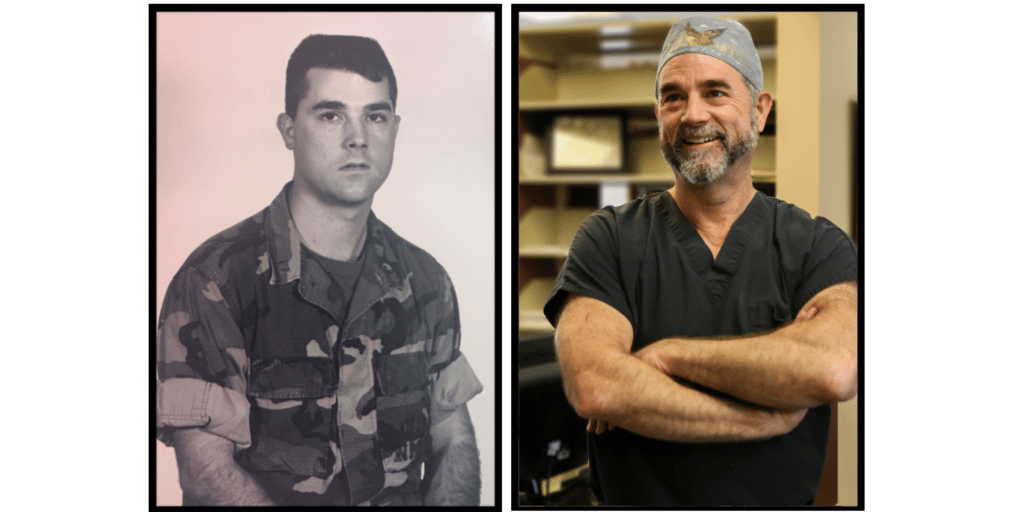 Dr. Christopher Blanton, cornea specialist and lead LASIK surgeon at Inland Eye LASIK, developed his passion for improving vision while he was serving in the United States Navy. His journey to becoming a well-experienced and well-respected eye surgeon began after he met a Navy recruiter in his senior year at Notre Dame.
Dr. Blanton had options among the different services but his desire to be closer to the ocean made the Navy the ideal choice for serving the United States.
"I have always been in love with the ocean, so the Navy was an easy choice," he said. "I knew that wherever my duty station was going to be, I would be near an aquatic paradise."
In fact, he would have considered a marine biology career if he wasn't an eye surgeon. Thankfully, he found an opportunity that perfectly fit his needs and eased the pressure of medical school fees. His medical education and training through the Navy played a significant part in his dedication to his career of improving the eyesight of patients.
After his medical school rotations at Naval Medical Center San Diego and Bethesda Naval Hospital, Blanton interned at Balboa Naval Hospital. Balboa Naval Hospital was famous for taking care of wounded veterans from conflicts like World War II, the Korean War, and the Vietnam War. He then went on a Tour of Duty with the United States Marine Corps and was appointed the Brigade Surgeon for the entire 7th Marine Expeditionary Brigade in the Mojave Desert. A brigade is usually between 15,000 -20,000 people.
Dr. Blanton followed his active-duty mission with an ophthalmology residency at Bethesda Naval Hospital, serving patients with encouraging roles such as congressmen, ambassadors, and even the commander in chief. Being a member of Bethesda's reputable ophthalmology program inspired Dr. Blanton's interest in military refractive surgery. He was appointed Chief Resident in the ophthalmology program and was sponsored to participate in a highly sought-after Cornea Fellowship at the Wills Eye Hospital in Philadelphia.
As a naval ophthalmologist, Dr. Blanton was heavily involved in the research and development of refractive surgery in the military. He even signed the purchase order for the first excimer laser for the U.S. military while stationed at the Naval Hospital in San Diego. He also contributed to a study that made refractive surgery popular throughout the military and approved for use by NASA astronauts.
"I was allowed to participate in an FDA study and my first procedure was a PRK [photorefractive keratectomy] on a Navy Seal," he said. "The study results were so overwhelmingly positive that the Navy actively pursued this study with full endorsement."
Enlisting in the Navy was very special to Dr. Blanton, and he "would do it again in a heartbeat." He constantly demonstrates his tremendous respect for those who have worn the uniform as continuously seen by his team at Inland Eye LASIK.
"I always set aside time [on Memorial Day] to remember fallen comrades who paid the ultimate sacrifice for our freedom," he said.
After 14 years of serving, leaving his Naval career was not easy for Dr. Blanton. The military played a great role in his ophthalmology education, training, and experience. Before joining Inland Eye LASIK, he oversaw the Corneal and Refractive Surgery Department at the Naval Hospital in San Diego, which is one of the most respected military hospitals.
"I am filled with gratitude for all the blessings in my life – the experience of serving in the military, and the ability to earn a living while fulfilling a great passion I have for performing eye surgery," he said.  "As we approach Veterans Day, I am so very thankful for all the incredible individuals who have gone before me, worked so diligently, and made so many sacrifices and allowed me the freedom to pursue all of my passions."
---